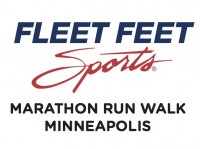 Fleet Feet Sports Minneapolis - Marathon Sports
Our goal is to help every customer find the right shoes, apparel, and accessories for a variety of specialized fitness needs. By correctly addressing each individual's needs, we can reduce the likelihood of injury and enhance enjoyment and participation in various personal fitness endeavors.
Fleet Feet Marathon Sports, is committed to all of our customers, whether they're walkers, runners, or new to the world of exercise.
Our business rests on our relationship with our customers. We are relentless in our pursuit to offer our customers the best advice and services.
---
| | |
| --- | --- |
| Join our Fleet Feet Pub Run series inspired by the the never ending quest to RUN and enjoy the worlds best post exercise recovery drink BEER! Nike will be providing wear test shoes / fun contests and prizes open to all participants. Three runs form Fleet Feet Marathon and a final run from a MPLS Pub. April 7th-Fleet Feet Marathon April 14th-Fle... | |
| | |
| --- | --- |
| Starting Wednesday, August 20th from 5-8pm we will be staffing one of our female bra fitting experts the third Wednesday of every month to host an evening of free sports bra fittings. "A sports bra is the most personal and essential piece of gear for active women. It's as critical as a pair of performance running shoes -- regardless of her size ... | |
| | |
| --- | --- |
| A 8-week program beginning October 8th, designed for the beginning walker, run/walker, or runner to help you complete a 5K (3.1 Miles). We will meet at Wednesday's at 6pm​ and ​Saturdays at 8am. Our goal race is the Thanksgiving Day Pi Equals 3.1....http://www.drumstickdash10k.com/ at Lake Harriet. We have 5 pace group options to meet yo... | |
| | |
| --- | --- |
| Overview: This is a running group for beginners who want to run a 5k or aspire to run a 10k. The 10-week program combines training partners, coaches, and educational clinics for new runners. To gently push you towards your fitness goals! Benefits: 1.) Ten Week Flexible Training Schedule 2.) Clinics on various topics such as stretching, race p... | |
| | |
| --- | --- |
| No Boundaries is a beginner 5K (3.1 miles) training program designed for people who are currently inactive or new to running and walking. It is a nationally organized and recognized program, sponsored by New Balance and offered at Fleet Feet Sports stores across the country. While No Boundaries focuses on beginners, all levels of walkers and r... | |
| | |
| --- | --- |
| We host a free group run from the store EVERY Tuesday night starting at 6:30pm. These runs are all about bring the running community together and having some fun doing what we love. With our proximity to Lake Harriet, we often have a group of runners that will run up around Lake Harriet for a nice 5k run. Another group often runs up Harriet to C... | |
| | |
| --- | --- |
| Winter Warrior Mantra: We as Minnesotans don't let the cold weather stop us from running and enjoying our amazing winter. By getting outside and running with our fellow Minnesotans "Winter Warriors" every Tuesday night this winter at 6:30pm ! This program will offer discounts and specials to all participants. Special weekly prize drawings and a ... | |