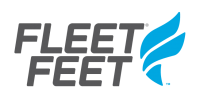 Fleet Feet Spring 2.0 No Boundaries 5K 2019
This is not an active group.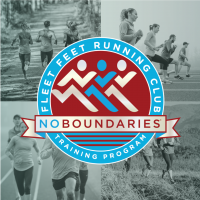 No Boundaries 5K Training
Spring 2019 5K Training
Start Date: April 1st
Goal Race: The Big Run Roanoke 5K
Cost: $90
Orientation: Monday, March 25th at 7:15pm at Fleet Feet
Registration: OPEN *Sign up by March 31st to guarantee your shirt size!
Cost of No Boundaries is $90 and that includes 10 weeks of workouts (three times a week). Registration for the The Big Run 5K is not included in the cost for this program.
NEW THIS YEAR! We are donating half of your registration fee to Big Brothers Big Sisters of Southwest Virginia! Train with us and give back. Their mission is to provide children facing adversity with strong and enduring, professionally supported one-to-one relationships that change their lives for the better, forever.

JOIN THE CLUB! Sign up for our brand NEW Fleet Feet Running Club (year-long membership!) and get 20% OFF any and all training programs in 2019 among many other perks!
NEW for 2019:
· Fleet Feet coupon book for the training program season
· Core and strength training after Thursday workouts (optional)
Other Training Program Perks:
· Mentors and friends to motivate and encourage you to reach your goals at every single workout
· Fleet Feet Training Program Shirt to rep at goal race
· Weekly Newsletters with training plans, training tips and resources, notes from the coach, upcoming events and more.
· MOST IMPORTANTLY being in a group where you will be known by name, treated like family and looked after by people who are truly invested in your success and happiness. We're your new training family!
· Post-Season Party to celebrate completing your goals, comparing your race day experiences and seeing each other in real clothes (& not in sweaty running gear!).
Who is No Boundaries for?
ANYONE! No Boundaries is geared towards anyone who wants to incorporate running or walking into their lifestyle, anyone who wants to start moving, and anyone who is ready to meet new friends and become part of the Fleet Feet family! We do require that all No Boundaries participants be 18 or older. We have multiple pace groups for the 5K Training Program, so whether you're just getting up off of the couch or wanting to run your first 5K, we have a pace group for you. Fleet Feet has over 10 years of experience in offering an organized and coached 5K running and walking program – if you show up, we will help you reach your goals!
When and where do workouts take place?
No Boundaries meets 3 times a week on Tuesday, Thursday and Saturday:
· Tuesday evening workouts are a training run/walk starting at 6PM at the Fleet Feet Pub Run & Walk at Reserve Avenue Fields North, across the street from Carilion Clinic 3 Riverside.
· Thursday evening workouts are a training run/walk starting at 6PM at Reserve Ave.
· Saturday morning workouts are a training run/walk starting at 8AM at Reserve Ave.
TEST-DRIVE THE FIRST WEEK FOR FREE:
Anyone is welcome to TEST DRIVE a No Boundaries 5K Training workout for FREE the first week of the session before signing up. Please check-in at the Fleet Feet tent when you arrive to fill out a waiver and find your pace group.
Workouts take place at 210 Reserve Ave. Roanoke, VA 24016, in the big gravel lot next to the field and the tennis courts. Look for the Fleet Feet tent! Arrive a few minutes early to check-in with Coach Leslie at the Fleet Feet tent, sign a waiver, and she will help you find your group to walk or run with! We have a walking group, run/walk group, and a running group. Workouts start at 3/4 of a mile, and you'll work your way up over the season to 3.1 miles.

First week of workouts:
Tuesday, April 2nd at 6pm
Thursday, April 4th at 6pm
Saturday, April 6th at 8am
When is Orientation?
Orientation will take place on Sunday, March 24th at 5:15pm at Fleet Feet Roanoke, located at 4347 Franklin Rd, Roanoke VA, 24018. Come out to learn more about the program, meet the mentors and the coach, hear testimonials from past participants, and get all of your questions answered!
Can you tell me more about the No Boundaries 5K Training pace groups?
All groups will start at 0.75 miles and work up to a 5K (3.1 miles). No Boundaries includes three pace groups:
· Walking – Walkers will walk the entire training program.
· Interval Running (Run/Walk) – Interval Running includes run/walk intervals starting at running for 30 seconds and walking for 2 minutes, and finishing the program at running for 2 minutes and walking for 1 minute
· Running – Running the whole time with no breaks. No Boundaries is all about the distance and having fun, so we don't have specific paces we're hitting!
Here's the great thing: if you start with one group and decide you want more of a challenge, or less, you can change groups! Make sure to talk with Coach Leslie and your mentors for advice! Walkers can move to intervals, runners can move to intervals, intervals can move to walking, etc.
Any rules?
Your safety is our number one priority. With your safety in mind, we have created the below rules and requirements by which all Fleet Feet Running Club participants and mentors must abide.
· All No Boundaries participants must have identification with emergency contact information on them at all workouts.
· Earphones are NOT allowed at workouts.
· Participants must have reflective gear and lights when warranted (most of the Winter training season!)
· Participants must have a hydration system with them during all workouts.
· Participants must stay with a Fleet Feet Training Mentor at all times.
· No strollers at workouts and no children under the age of 18.
· No animals at workouts.
Do we do any races?
The goal race for No Boundaries is the The Big Run on Wednesday, June 5, 2019. The registration fee for the The Big Run is NOT included in the No Boundaries registration cost.
What does the cost of No Boundaries 5K Training go towards?
50% of the cost will go to a local non-profit. The remainder of the registration fees goes towards coaching staff, equipment, insurance, and part of the registration goes back to the City of Roanoke to help maintain the Greenways and facilities that we use.
Questions? Contact Coach Leslie!
No event has been created for this group
Suggestion Box
Wish this page let you do something different? Did you have a problem?
Let us know how we can make this page better!
---