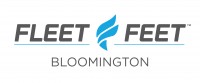 Store Information
105 Krispy Kreme Drive Suite #5
Bloomington, IL 61704
309-808-3220
Website
5K Training Group Summer 2023
Registration Deadline passed.

Our Fleet Feet Bloomington 5K Training Program is an 8-week program designed to help you cross the finish line of your first 5K, cross it again after taking time off from running, or help seasoned runners meet a new performance goal. Program options include Beginner & Intermediate 5K. Whether you are brand new to exercise or are currently doing a run/walk routine this program is for you!
We believe it is important to train with a goal in mind, usually (but not always) that goal is a race. For this program our graduation race will be St Jude Run/Walk on Saturday September 23, 2023. However, you can also use this program to train for any race you choose or just to run with great people.
There will be an optional informational session on Tuesday, July 18 at 6:00 p.m. at the store. Come learn more details about the program to determine if it is the right one for you. The first workout will be Tuesday, July 25 at 6:00 p.m.
Program Details
When: Weekly group training runs will be at 6:00 p.m. on Tuesdays and 8:00 a.m. on Saturdays.
Where: The group will meet at Fleet Feet Bloomington, Tipton Park, Rosa Parks Commons, Rollingbrook Park and other locations in Bloomington-Normal. Participants will receive a program calendar that highlights where the group will meet each week as well as weekly email reminders.
Program Cost: $70 // Program cost does not include race registration fees.
Additional Info: The Beginner and Intermediate programs incorporates a walking warm-up and cool-down and run/walk intervals. Over the course of eight weeks participants will build up to 3.5 miles. Participants should be able to comfortably walk at least 15 minutes at the start of our program.
As part of this Fleet Feet Bloomington Training Program, you receive:
**An eight week 5K training plan with weekly workouts for running, cross training, and recovery
**Twice a week runs with a coach and mentor-guided training sessions
**The camaraderie of others that are excited to be running with other people!
**Educational information on running form, running motivation, nutrition, hydration and more
**Support from coaches and other participants to answer individual questions and help motivate you on your training journey
**Program technical shirt and other great swag
**A 15% store discount for the duration of the program (excludes sale items and electronics)
**Facebook group for participants only and access to a training program graduates Facebook group after program completion
If you have any questions or for more information please email our Training Program Coordinator Julie Zei at (training@fleetfeetbloomington.com)
NEXT EVENT
5K Training Saturday Runs
Saturday, September 23rd at 08:00 AM
Saturday Runs - 8:00 AM


105 Krispy Kreme Drive
Bloomington, IL 61704




EVENT SCHEDULE
---
DAY 1

5K Training Tuesday Runs
Tuesday, Jun 27th 6:00pm
Tuesday Runs - 6:00 PM
When
6:00pm
Where
105 Krispy Kreme Drive
Suite #5
Bloomington, IL 61704
---
DAY 2

5K Training Saturday Runs
Saturday, Jul 1st 8:00am
Saturday Runs - 8:00 AM
When
8:00am
Where
105 Krispy Kreme Drive
Suite #5
Bloomington, IL 61704
---
DAY 3

5K Training Tuesday Runs
Tuesday, Jul 4th 6:00pm
Tuesday Runs - 6:00 PM
When
6:00pm
Where
105 Krispy Kreme Drive
Suite #5
Bloomington, IL 61704
---
DAY 4

5K Training Saturday Runs
Saturday, Jul 8th 8:00am
Saturday Runs - 8:00 AM
When
8:00am
Where
105 Krispy Kreme Drive
Suite #5
Bloomington, IL 61704
---
DAY 5

5K Training Tuesday Runs
Tuesday, Jul 11th 6:00pm
Tuesday Runs - 6:00 PM
When
6:00pm
Where
105 Krispy Kreme Drive
Suite #5
Bloomington, IL 61704
---
DAY 6

5K Training Saturday Runs
Saturday, Jul 15th 8:00am
Saturday Runs - 8:00 AM
When
8:00am
Where
105 Krispy Kreme Drive
Suite #5
Bloomington, IL 61704
---
DAY 7

5K Training Tuesday Runs
Tuesday, Jul 18th 6:00pm
Tuesday Runs - 6:00 PM
When
6:00pm
Where
105 Krispy Kreme Drive
Suite #5
Bloomington, IL 61704
---
DAY 8

5K Training Saturday Runs
Saturday, Jul 22nd 8:00am
Saturday Runs - 8:00 AM
When
8:00am
Where
105 Krispy Kreme Drive
Suite #5
Bloomington, IL 61704
---
DAY 9

5K Training Tuesday Runs
Tuesday, Jul 25th 6:00pm
Tuesday Runs - 6:00 PM
When
6:00pm
Where
105 Krispy Kreme Drive
Suite #5
Bloomington, IL 61704
---
DAY 10

5K Training Saturday Runs
Saturday, Jul 29th 8:00am
Saturday Runs - 8:00 AM
When
8:00am
Where
105 Krispy Kreme Drive
Suite #5
Bloomington, IL 61704
---
DAY 11

5K Training Tuesday Runs
Tuesday, Aug 1st 6:00pm
Tuesday Runs - 6:00 PM
When
6:00pm
Where
105 Krispy Kreme Drive
Suite #5
Bloomington, IL 61704
---
DAY 12

5K Training Saturday Runs
Saturday, Aug 5th 8:00am
Saturday Runs - 8:00 AM
When
8:00am
Where
105 Krispy Kreme Drive
Suite #5
Bloomington, IL 61704
---
DAY 13

5K Training Tuesday Runs
Tuesday, Aug 8th 6:00pm
Tuesday Runs - 6:00 PM
When
6:00pm
Where
105 Krispy Kreme Drive
Suite #5
Bloomington, IL 61704
---
DAY 14

5K Training Saturday Runs
Saturday, Aug 12th 8:00am
Saturday Runs - 8:00 AM
When
8:00am
Where
105 Krispy Kreme Drive
Suite #5
Bloomington, IL 61704
---
DAY 15

5K Training Tuesday Runs
Tuesday, Aug 15th 6:00pm
Tuesday Runs - 6:00 PM
When
6:00pm
Where
105 Krispy Kreme Drive
Suite #5
Bloomington, IL 61704
---
DAY 16

5K Training Saturday Runs
Saturday, Aug 19th 8:00am
Saturday Runs - 8:00 AM
When
8:00am
Where
105 Krispy Kreme Drive
Suite #5
Bloomington, IL 61704
---
DAY 17

5K Training Tuesday Runs
Tuesday, Aug 22nd 6:00pm
Tuesday Runs - 6:00 PM
When
6:00pm
Where
105 Krispy Kreme Drive
Suite #5
Bloomington, IL 61704
---
DAY 18

5K Training Saturday Runs
Saturday, Aug 26th 8:00am
Saturday Runs - 8:00 AM
When
8:00am
Where
105 Krispy Kreme Drive
Suite #5
Bloomington, IL 61704
---
DAY 19

5K Training Tuesday Runs
Tuesday, Aug 29th 6:00pm
Tuesday Runs - 6:00 PM
When
6:00pm
Where
105 Krispy Kreme Drive
Suite #5
Bloomington, IL 61704
---
DAY 20

5K Training Saturday Runs
Saturday, Sep 2nd 8:00am
Saturday Runs - 8:00 AM
When
8:00am
Where
105 Krispy Kreme Drive
Suite #5
Bloomington, IL 61704
---
DAY 21

5K Training Tuesday Runs
Tuesday, Sep 5th 6:00pm
Tuesday Runs - 6:00 PM
When
6:00pm
Where
105 Krispy Kreme Drive
Suite #5
Bloomington, IL 61704
---
DAY 22

5K Training Saturday Runs
Saturday, Sep 9th 8:00am
Saturday Runs - 8:00 AM
When
8:00am
Where
105 Krispy Kreme Drive
Suite #5
Bloomington, IL 61704
---
DAY 23

5K Training Tuesday Runs
Tuesday, Sep 12th 6:00pm
Tuesday Runs - 6:00 PM
When
6:00pm
Where
105 Krispy Kreme Drive
Suite #5
Bloomington, IL 61704
---
DAY 24

5K Training Saturday Runs
Saturday, Sep 16th 8:00am
Saturday Runs - 8:00 AM
When
8:00am
Where
105 Krispy Kreme Drive
Suite #5
Bloomington, IL 61704
---
DAY 25

5K Training Tuesday Runs
Tuesday, Sep 19th 6:00pm
Tuesday Runs - 6:00 PM
When
6:00pm
Where
105 Krispy Kreme Drive
Suite #5
Bloomington, IL 61704
---
DAY 26

5K Training Saturday Runs
Saturday, Sep 23rd 8:00am
Saturday Runs - 8:00 AM
When
8:00am
Where
105 Krispy Kreme Drive
Suite #5
Bloomington, IL 61704
---
DAY 27

5K Training Tuesday Runs
Tuesday, Sep 26th 6:00pm
Tuesday Runs - 6:00 PM
When
6:00pm
Where
105 Krispy Kreme Drive
Suite #5
Bloomington, IL 61704
---
DAY 28

5K Training Saturday Runs
Saturday, Sep 30th 8:00am
Saturday Runs - 8:00 AM
When
8:00am
Where
105 Krispy Kreme Drive
Suite #5
Bloomington, IL 61704