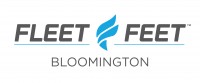 Store Information
105 Krispy Kreme Drive Suite #5
Bloomington, IL 61704
309-808-3220
Website
Women's Triathlon Training 2021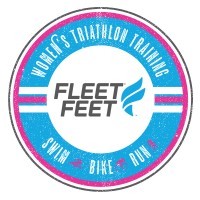 Are you ready to TRI something new? We think running is great but adding swimming and biking into your routine can be a fun change of pace and a great way to cross train in order to prevent injury. Whether you are brand-new to triathlon or have already completed one this program is for you! Let our exceptional coaching staff, educational clinics, and training plan help you meet your goals.
Our Fleet Feet Women's Triathlon Program is a 10 week beginner training program structured to help you cross the finish line of your first sprint triathlon or help beginner triathletes meet a new performance goal. For this program's graduation race we will complete a virtual sprint triathlon (600 yard swim, 13 mile bike, 5K run) on Saturday, August 14 at 7:00 am.
There will be a program informational session on Thursday, June 3 at 7:15 pm at the Store. Past participants will be here to share their story. Come find out if this is the right program for you. Our program kick-off and first workout will be Thursday, June 10 at 6:30 pm.
Program Details:

When: Most group swim and bike workouts will be at 6:00 or 6:30 pm on Thursdays from June 10 – August 14. We will have group runs on an occasional Wednesday or Friday. Participants will receive a program schedule that highlights when and where the group will meet each week as well as weekly email reminders.
Where: The group will meet at Fleet Feet Bloomington, Normal Community High School Pool, Rosa Parks Commons, Bloomington Cycle & Fitness and other locations around town.
Program Cost: $75 per participant. There is a registration limit of 32 participants.
Important notes: This program is meant to be a "next-step" after completing one of our running programs. This program assumes participants can comfortably complete a two mile run/walk at a 15 minute/mile pace. We will not focus on running skills but rather on improving your swimming, biking and overall endurance to be able to put all three sports together on race day. We do not have official "mentors" like our running groups - but veteran participants informally mentor the group through shared experiences. We do not provide swim lessons but work with a local swim coach to help improve your technique, efficiency and endurance.
NEXT EVENT
Women's Triathlon Training 2021
Thursday, July 29th at 06:00 PM
Group Workout


105 Krispy Kreme Drive
Bloomington, IL 61704




EVENT SCHEDULE
---
DAY 1

Women's Triathlon Training 2021
Thursday, Jun 10th 6:00pm
Group Workout
When
6:00pm
Where
105 Krispy Kreme Drive
Suite #5
Bloomington, IL 61704
More Information
FAQ

Women's Triathlon Training 2021 FAQ
---
DAY 2

Women's Triathlon Training 2021
Thursday, Jun 17th 6:00pm
Group Workout
When
6:00pm
Where
105 Krispy Kreme Drive
Suite #5
Bloomington, IL 61704
More Information
FAQ

Women's Triathlon Training 2021 FAQ
---
DAY 3

Women's Triathlon Training 2021
Thursday, Jun 24th 6:00pm
Group Workout
When
6:00pm
Where
105 Krispy Kreme Drive
Suite #5
Bloomington, IL 61704
More Information
FAQ

Women's Triathlon Training 2021 FAQ
---
DAY 4

Women's Triathlon Training 2021
Thursday, Jul 1st 6:00pm
Group Workout
When
6:00pm
Where
105 Krispy Kreme Drive
Suite #5
Bloomington, IL 61704
More Information
FAQ

Women's Triathlon Training 2021 FAQ
---
DAY 5

Women's Triathlon Training 2021
Thursday, Jul 8th 6:00pm
Group Workout
When
6:00pm
Where
105 Krispy Kreme Drive
Suite #5
Bloomington, IL 61704
More Information
FAQ

Women's Triathlon Training 2021 FAQ
---
DAY 6

Women's Triathlon Training 2021
Thursday, Jul 15th 6:00pm
Group Workout
When
6:00pm
Where
105 Krispy Kreme Drive
Suite #5
Bloomington, IL 61704
More Information
FAQ

Women's Triathlon Training 2021 FAQ
---
DAY 7

Women's Triathlon Training 2021
Thursday, Jul 22nd 6:00pm
Group Workout
When
6:00pm
Where
105 Krispy Kreme Drive
Suite #5
Bloomington, IL 61704
More Information
FAQ

Women's Triathlon Training 2021 FAQ
---
DAY 8

Women's Triathlon Training 2021
Thursday, Jul 29th 6:00pm
Group Workout
When
6:00pm
Where
105 Krispy Kreme Drive
Suite #5
Bloomington, IL 61704
More Information
FAQ

Women's Triathlon Training 2021 FAQ
---
DAY 9

Women's Triathlon Training 2021
Thursday, Aug 5th 6:00pm
Group Workout
When
6:00pm
Where
105 Krispy Kreme Drive
Suite #5
Bloomington, IL 61704
More Information
FAQ

Women's Triathlon Training 2021 FAQ
---
DAY 10

Women's Triathlon Training 2021
Thursday, Aug 12th 6:00pm
Group Workout
When
6:00pm
Where
105 Krispy Kreme Drive
Suite #5
Bloomington, IL 61704
More Information
FAQ

Women's Triathlon Training 2021 FAQ