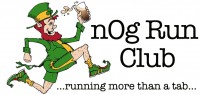 Store Information
614 Glenwood Ave
Raleigh, NC 27603
919-300-6707
nogrunclub.com
nOg Run Club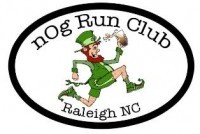 How We Started
The nOg Run Club was founded as a partnership between Tir na nOg Irish Pub, Chiropractic Cafe, and Fleet Feet Sports Raleigh as a way to promote a culture of running, fitness, and camaraderie in the Raleigh area. Since it's inception, it has evolved from a once a month meeting of running friends to a weekly non-profit that has supported dozens of local and regional non-profits over the past several years.
Description
We meet every Monday at Tir na nOg Irish Pub and Restaurant in downtown Raleigh, NC. Runners/walkers leave @ 6PM, with most opting for the mapped out 3, 4, 5, or 6 mile loops... some choose their own path. The $1 pasta/salad buffet awaits the members' return as well as weekly draft beer specials. At 7PM we begin the entertainment, whether it's trivia, or one of our monthly Charity runs.
General Information
Reasons to join us: you like to run, you like making new friends, you like Downtown Raleigh, you like to donate to local charities, you like turtles, you like the Run Green 8K, you like to make fun of Rick's Mom, you like kicking off your week with a bang!!!, and/or you like getting 25% off the regular menu @ Tir na nOg. Do you need any other reasons????
NEXT EVENT
nOg Run Club
Monday, September 28th at 06:15 PM
Don't miss our $1 pasta buffet and trivia with Dr. Rick each week after the run!


614 Glenwood Ave
Raleigh, NC 27603




EVENT SCHEDULE
Christmas Fundraiser Party
Party to celebrate hitting the December fundraising goal.
Meets
Saturday, Apr 27th, 2013 @ 04:00 PM
Where
218 S. Blount St.
Raleigh, NC 27601
---
Lonerider Showdown Volunteer
Lonerider Showdown Volunteers
Meets
Saturday, Mar 28th, 2015 @ 03:00 PM
Where
218 S. Blount St.
Raleigh, NC 27601
---
nOg Run Club
Don't miss our $1 pasta buffet and trivia with Dr. Rick each week after the run!
Meets
Every Monday @ 06:15 PM
Where
614 Glenwood Ave
Raleigh, NC 27603
More Information
FAQ

nOg Run Club FAQ

1. How much does it cost? The run, food, beer mugs and shirts are absolutely FREE! The only cost is your bar tab. It would be great if you would throw $1 in the tip jar by the buffet for the wonderful wait staff. 2. How do you join? Here's what we will need: A completed waiver, photo id, one DNA sample (your choice), 2 year's tax returns, social security card, 5 references (of which 3 should be business-oriented), and a finger print card, and that's it! If you can't provide any of the items listed above, we will settle for a completed waiver from our sign in table. Should take you 2 minutes to complete. 3. How far is it? We have 3-, 4-, 5-, and 6-mile loops -- so it all depends on how far you feel like running or walking. 4. How fast do I need to be? The run starts at 6pm and the pub closes at 2am, anytime before that is good. Our crack team of mathematicians calculated that even if you choose to do somersaults for the entire course you could still get back before last call. We have groups that range from 6-minute milers to walkers. 5. Because the route is downtown, is the route stop-and-go? We have created routes to minimize stop lights. However, you should expect to stop a few times during the run/walk. 6. Can I bring my dog? We would prefer not. As much as we love dogs, it poses a safety issues for the other members. 7. How do I get my free stuff? After one run, you will receive whiter teeth, a raise at work, six-pack abs, winning lottery numbers and local fame and prestige! All of this is guaranteed or we will give you your membership fee back 100 times over! After you come to 10 runs you get a technical running shirt with the club logo. After 25 runs you get a Run Club Mug! 8. What else do I get for joining the club? Perks range from Run Club sale nights at Fleet Feet, VIP entrance to certain races (official club members only), giveaways, door prizes and many other exciting secrets! 9. What if there is rain, snow, or a plague of locusts? Put on your big girl panties and deal with it! Seriously, we don't cancel nOg Run Club meetings. Even if it is too messy to run, we will have trivia or some other game sure to entertain. *Unless there is a baseless threat of ice on January 10th, 2011. Our astrologer tells us this is actually a good date to cancel.* (Posted January 1st, 2011) 10. How often does the club meet? Every doggone Monday at 6 p.m.
---
nOg Run Club Summer Series
Summer Check In Challenge
Meets
Every Monday @ 06:15 PM - 08:15 PM
Where
614 Glenwood Ave
Raleigh, NC 27603
---
Minuteman Muster
Minuteman Muster
Meets
Saturday, May 20th, 2017 @ 09:00 AM - 10:00 AM
Where
614 Glenwood Ave
Raleigh, NC 27603
---
NCRC Half Marathon/10K
NCRC Half Marathon/10K
Meets
Sunday, May 21st, 2017 @ 07:00 AM - 10:00 AM
Where
614 Glenwood Ave
Raleigh, NC 27603
---
Race 13.1
volunteered at water stop
Meets
Saturday, Jun 3rd, 2017 @ 07:15 AM - 09:15 AM
Where
614 Glenwood Ave
Raleigh, NC 27603
More Information
FAQ

Race 13.1 FAQ

Volunteered at water stop
---
Ironman 70.3 Volunteer
Raleigh 70.3 Volunteer
Meets
Sunday, Jun 4th, 2017 @ 08:15 AM - 10:15 AM
Where
614 Glenwood Ave
Raleigh, NC 27603
More Information
FAQ

Ironman 70.3 Volunteer FAQ
---
Flip flop 1K
flip flop
Meets
Saturday, Jun 10th, 2017 @ 11:00 AM - 12:00 PM
Where
614 Glenwood Ave
Raleigh, NC 27603
More Information
FAQ
---
NCRC Runners
NCRC Half Marathon/10K Runners
Meets
Sunday, May 20th, 2018 @ 07:30 AM - 11:30 AM
Where
614 Glenwood Ave
Raleigh, NC 27603
---
NCRC 2018
NCRC 2018
Meets
Sunday, May 20th, 2018 @ 07:20 AM - 08:20 AM
Where
614 Glenwood Ave
Raleigh, NC 27603
More Information
FAQ
---
Race 13.1 2018
Race 13.1
Meets
Saturday, Jun 2nd, 2018 @ 07:15 AM - 08:15 AM
Where
614 Glenwood Ave
Raleigh, NC 27603
More Information
FAQ
---
Ironman 2018
Ironman 2018
Meets
Sunday, Jun 3rd, 2018 @ 07:20 AM - 08:20 AM
Where
614 Glenwood Ave
Raleigh, NC 27603
More Information
FAQ
---
Flip Flop 2018
Flip Flop 2018
Meets
Saturday, Jun 9th, 2018 @ 10:20 AM - 12:20 PM
Where
614 Glenwood Ave
Raleigh, NC 27603
More Information
FAQ
---
nOg Run Club
Flip flop 1k
Meets
Saturday, Jun 8th, 2019 @ 10:30 AM - 12:00 PM
Where
614 Glenwood Ave
Raleigh, NC 27603
More Information
FAQ
---