Store Information
9525 Kenwood Rd Suite 42
Cincinnati, OH 45242
513-793-8383
fleetfeetcincy.com
The NEW Cincy Pub Run Series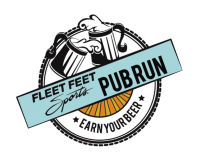 On the second Monday of every month, we gather for two reasons: to log some miles and earn some beers. After 5+ years of casual weekly pub runs around town, we're stepping up our game and rolling out a once month super charged Pub Run at our new home pub, The Blind Pig. Our Pub Runs are always FREE, open to the public, for all paces and abilities, and stocked full of Monday night enjoyment.
Each month we'll offer a new 4 mile run course through and around downtown Cincy and Northern Kentucky. We'll also offer a shorter 2 mile route that is perfect for a quick post-weekend shake out run before you enjoy a beer. There will be turn-by-turn route cards for each route every month so there is no chance of getting lost! Afterwards, everyone is encouraged to come back to the Blind Pig, grab a drink and some food and hang out. Bring as many friends as you want or make new ones along the way!
NEXT EVENT
The NEW Cincy Pub Run Series
Monday, August 13th at 06:30 PM
Monday Night Pub Run


24 W 3rd St.
Cincinnati, OH 45202




EVENT SCHEDULE
---
DAY 1

The NEW Cincy Pub Run Series
Monday, Jul 10th 6:30pm
The First of our NEW Cincy Pub Run Series! Earn Your Beer at our new home pub, the Blind Pig!
When
6:30pm
Where
24 W 3rd St.
Cincinnati, OH 45202
---
DAY 2

The NEW Cincy Pub Run Series
Monday, Aug 14th 6:30pm
Monday Night Pub Run
When
6:30pm
Where
24 W 3rd St.
Cincinnati, OH 45202
---
DAY 3

The NEW Cincy Pub Run Series
Monday, Sep 11th 6:30pm
Monday Pub Run
When
6:30pm
Where
24 W 3rd St.
Cincinnati, OH 45202
---
DAY 4

The NEW Cincy Pub Run Series
Monday, Oct 9th 6:30pm
Monday Pub Run
When
6:30pm
Where
24 W 3rd St.
Cincinnati, OH 45202
---
DAY 5

The NEW Cincy Pub Run Series
Monday, Nov 13th 6:30pm
Monday Pub Run
When
6:30pm
Where
24 W 3rd St.
Cincinnati, OH 45202
---
DAY 6

The NEW Cincy Pub Run Series
Monday, Dec 11th 6:30pm
Monday Pub Run
When
6:30pm
Where
24 W 3rd St.
Cincinnati, OH 45202
---
DAY 7

The NEW Cincy Pub Run Series
Monday, Jan 15th 6:30pm
Monday Night Pub Run
When
6:30pm
Where
24 W 3rd St.
Cincinnati, OH 45202
---
DAY 8

The NEW Cincy Pub Run Series
Monday, Feb 12th 6:30pm
Monday Night Pub Run
When
6:30pm
Where
24 W 3rd St.
Cincinnati, OH 45202
---
DAY 9

The NEW Cincy Pub Run Series
Monday, Mar 12th 6:30pm
Monday Night Pub Run
When
6:30pm
Where
24 W 3rd St.
Cincinnati, OH 45202
---
DAY 10

The NEW Cincy Pub Run Series
Monday, Apr 9th 6:30pm
Monday Night Pub Run
When
6:30pm
Where
24 W 3rd St.
Cincinnati, OH 45202
---
DAY 11

The NEW Cincy Pub Run Series
Monday, May 14th 6:30pm
Monday Night Pub Run
When
6:30pm
Where
24 W 3rd St.
Cincinnati, OH 45202
---
DAY 12

The NEW Cincy Pub Run Series
Monday, Jun 11th 6:30pm
Monday Night Pub Run
When
6:30pm
Where
24 W 3rd St.
Cincinnati, OH 45202
---
DAY 13

The NEW Cincy Pub Run Series
Monday, Jul 9th 6:30pm
Monday Night Pub Run
When
6:30pm
Where
24 W 3rd St.
Cincinnati, OH 45202
---
DAY 14

The NEW Cincy Pub Run Series
Monday, Aug 13th 6:30pm
Monday Night Pub Run
When
6:30pm
Where
24 W 3rd St.
Cincinnati, OH 45202
---
DAY 15

The NEW Cincy Pub Run Series
Monday, Sep 10th 6:30pm
Monday Night Pub Run
When
6:30pm
Where
24 W 3rd St.
Cincinnati, OH 45202
---
DAY 16

The NEW Cincy Pub Run Series
Monday, Oct 8th 6:30pm
Monday Night Pub Run
When
6:30pm
Where
24 W 3rd St.
Cincinnati, OH 45202