Store Information
521 East Locust Street, Suite 100
Des Moines, IA 50309
515-323-3338
Website
10K Training Fall 2021 Fleet Feet DSM
Registration Deadline passed.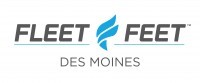 Are you interested in completing your first 10K or wish to run a 10K faster? We have the coaches, the training, and the support! For just $95, you'll receive 23 coached sessions leading up to the Hillbilly Hike 10K goal race, Saturday, November 6th. You will have access to mentors and coaches, twice weekly emails, and more that will help you every step of the way. Sessions are 6:00 PM Tuesdays and 8:15 AM Saturdays starting Tuesday, August 17th at 6:00 PM.
To have the optimum experience we request that you have completed one 5K, can jog for 4 minutes, and complete a mile using run/walk intervals in less than 13 1/2 minutes.
There will be an informational Open House on Monday, August 16th at Fleet Feet Des Moines at 6:00 PM, where you can meet the coach, Lana Snyder, the mentors, and other participants. We will talk about the program and answer any questions you may have.
Space is limited, so reserve your spot today! Register here on this site. To learn about the training series or get questions answered, just call Fleet Feet Des Moines at 515-323-FEET (3338) or email Coach Lana at lana@fleetfeetdesmoines.com or Andy@fleetfeetdesmoines.com!
This is your place of encouragement and "can do!" We won't leave anyone behind, you can do this!
NEXT EVENT
Saturday Training
Saturday, October 30th at 08:15 AM

521 East Locust Street, Suite 100
Des Moines, IA 50309




EVENT SCHEDULE
---
When
6:00pm
Where
521 East Locust Street, Suite 100
Des Moines, IA 50309
---
Saturday, Aug 21st 8:15am
When
8:15am
Where
521 East Locust Street, Suite 100
Des Moines, IA 50309
---
When
6:00pm
Where
521 East Locust Street, Suite 100
Des Moines, IA 50309
---
Saturday, Aug 28th 8:15am
When
8:15am
Where
521 East Locust Street, Suite 100
Des Moines, IA 50309
---
When
6:00pm
Where
521 East Locust Street, Suite 100
Des Moines, IA 50309
---
When
8:15am
Where
521 East Locust Street, Suite 100
Des Moines, IA 50309
---
When
6:00pm
Where
521 East Locust Street, Suite 100
Des Moines, IA 50309
---
Saturday, Sep 11th 8:15am
When
8:15am
Where
521 East Locust Street, Suite 100
Des Moines, IA 50309
---
When
6:00pm
Where
521 East Locust Street, Suite 100
Des Moines, IA 50309
---
Saturday, Sep 18th 8:15am
When
8:15am
Where
521 East Locust Street, Suite 100
Des Moines, IA 50309
---
When
6:00pm
Where
521 East Locust Street, Suite 100
Des Moines, IA 50309
---
Wednesday, Sep 22nd 10:40am
When
10:40am
Where
521 East Locust Street, Suite 100
Des Moines, IA 50309
---
Wednesday, Sep 22nd 10:45am
When
10:45am
Where
521 East Locust Street, Suite 100
Des Moines, IA 50309
---
Wednesday, Sep 22nd 10:45am
When
10:45am
Where
521 East Locust Street, Suite 100
Des Moines, IA 50309
---
Saturday, Sep 25th 8:15am
When
8:15am
Where
521 East Locust Street, Suite 100
Des Moines, IA 50309
---
When
6:00pm
Where
521 East Locust Street, Suite 100
Des Moines, IA 50309
---
Thursday, Sep 30th 12:30pm
When
12:30pm
Where
521 East Locust Street, Suite 100
Des Moines, IA 50309
---
When
8:15am
Where
521 East Locust Street, Suite 100
Des Moines, IA 50309
---
When
6:00pm
Where
521 East Locust Street, Suite 100
Des Moines, IA 50309
---
When
8:15am
Where
521 East Locust Street, Suite 100
Des Moines, IA 50309
---
When
6:00pm
Where
521 East Locust Street, Suite 100
Des Moines, IA 50309
---
Saturday, Oct 16th 8:15am
When
8:15am
Where
521 East Locust Street, Suite 100
Des Moines, IA 50309
---
When
6:00pm
Where
521 East Locust Street, Suite 100
Des Moines, IA 50309
---
Wednesday, Oct 20th 9:30am
When
9:30am
Where
521 East Locust Street, Suite 100
Des Moines, IA 50309
---
Saturday, Oct 23rd 8:15am
When
8:15am
Where
521 East Locust Street, Suite 100
Des Moines, IA 50309
---
When
6:00pm
Where
521 East Locust Street, Suite 100
Des Moines, IA 50309
---
Saturday, Oct 30th 8:15am
When
8:15am
Where
521 East Locust Street, Suite 100
Des Moines, IA 50309
---
When
6:00pm
Where
521 East Locust Street, Suite 100
Des Moines, IA 50309
---
When
8:15am
Where
521 East Locust Street, Suite 100
Des Moines, IA 50309