Store Information
114 E Aurora Rd
Northfield, OH 44067
440-455-1156
Website
2019 Summer of Fast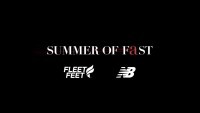 Welcome to Summer Of Fast! Summer of Fast consists of 4 FREE community track workouts located at different locations throughout Cleveland.
Summer of Fast is a great way to stay race ready and mix up your weekly running miles while becoming a more well-rounded runner. This group is open to all runners and walkers of all abilities! These speed workouts are aimed to make you a faster, more efficient runner or run/walker.
During Summer Of Fast, you will not only be coached on how to execute and benefit from a variety of unique track workouts, but also on how to maintain good form when running at a harder intensity. We will even cover topics like ideal race hydration, dynamic warm ups, cool downs, and body maintenance products that supplement faster workouts.
*Times and locations may change. Make sure you register to receive the most up to date information!
Times and Locations
July 10th: 6:30PM - Solon High School; 33600 Inwood Dr, Solon, OH 44139
July 24th: 6:30PM - Westlake High School; 27830 Hilliard Blvd, Westlake, OH 44145
August 7th: 6:30PM - Nordonia Middle School; 73 Leonard Avenue, Northfield, OH 44067
August 14th: 6:30PM - Strongsville Middle School; 13200 Pearl Road, Strongsville, OH 44136
NEXT EVENT
2019 Summer of Fast Week 2
Wednesday, July 24th at 06:30 PM
Summer of Fast Week 2

Location: Westlake High School; 27830 Hilliard Blvd, Westlake, OH 44145

Time: 6:30PM


27830 Hilliard Blvd
Westlake, OH 44145




EVENT SCHEDULE
---
DAY 1

2019 Summer of Fast Week 1
Wednesday, Jul 10th 6:30pm
Summer of Fast Week 1
Location: Solon High School; 33600 Inwood Dr, Solon, OH 44139
Time: 6:30PM
When
6:30pm
Where
33600 Inwood Drive
Solon, OH 44139
---
DAY 2

2019 Summer of Fast Week 2
Wednesday, Jul 24th 6:30pm
Summer of Fast Week 2
Location: Westlake High School; 27830 Hilliard Blvd, Westlake, OH 44145
Time: 6:30PM
When
6:30pm
Where
27830 Hilliard Blvd
Westlake, OH 44145
---
DAY 3

2019 Summer of Fast Week 3
Wednesday, Aug 7th 6:30pm
Summer of Fast Week 3
Location: Nordonia Middle School; 73 Leonard Ave, Northfield, OH 44067
Time: 6:30PM
When
6:30pm
Where
73 Leonard Ave
Northfield, OH 44067
---
DAY 4

2019 Summer of Fast Week 4
Wednesday, Aug 14th 6:30pm
Summer of Fast Week 4
Location: Strongsville Middle School; 13200 Pearl Rd, Strongsville, OH 44136
Time: 6:30PM
When
6:30pm
Where
13200 Pearl Road
Strongsville, OH 44136