Store Information
114 E Aurora Rd
Northfield, OH 44067
440-455-1156
Website
The Route - Intermediate Yearlong Training
Registration Deadline passed.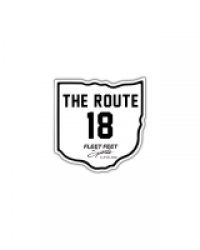 It's about the journey AND the destination.
What if your whole year of training was planned for you from Day 1? Every mile, workout, and race mapped out for you, whether you're just starting out or looking to be faster than ever. Don't train alone this year. Join the fastest growing and most fun (we might be biased about that part) training group in Cleveland.
We offer "The Route" at three different levels - Beginner, Intermediate, and Advanced - and it won't be without some SERIOUS perks. Let us do the planning and you do the running.
INTERMEDIATE: For those that can comfortably complete a 5K but are looking to take the next step!
Goal Races: Spring 10K - Summer 10K or Summer Strength Building - Fall Half Marathon
What you Get:
Winter Warriors - Strength Training and Group run each week to get you ready for the Spring!
What you get: 1 group run lead by a Fleet Feet Cleveland coach on Monday evenings AND 1 strength training/fitness class per week for 8 weeks. The run will begin at 6:00 pm on Monday evenings. The run will leave from 23400 Mercantile Road, Suite #5, Beachwood Ohio 44122. It is up to YOU to decide which class you would like to take each week! You can choose from the class schedule here: http://mpcle.com/schedule/.
Spring No Boundaries - 10K Training Program
Train for the 10k at the Cleveland Marathon! Begins March 2018!
Spring Speed Program
Get faster to run your best 10k at the Cleveland Marathon! Begins April 1st!
Summer No Boundaries- 10k Training Program or Summer Soldiers - Bootcamp style workout in the park!
Challenge yourself to another strong 10k OR a killer workout in the park - your choice! More details coming soon! Begins May 2018!
Fall Half Marathon Training Program
Transition to the More Miles group to run your first Half Marathon! Transition to More Miles will be in August 2018 after your 10k or Summer Soldiers Program! Your choice of the Towpath Half Marathon or the Columbus Half Marathon!
Fall Speed Program
Fine tune your speed and form for your first Half Marathon! Start date coming soon!
Program Cost: $300
Suggestion Box
Wish this page let you do something different? Did you have a problem?
Let us know how we can make this page better!
---