Store Information
278 Harvey St.
Winston-salem, NC 27103
336-722-8477
Website
2017 Fall No Boundaries Training - PM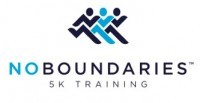 No Boundaries is a beginner 5K (3.1 miles) training program designed for people who are currently inactive or new to running and walking. While No Boundaries focuses on beginners, all levels of walkers and runners are welcome. The program is structured to help you cross the finish line in just 8 weeks! Along the way we'll provide you with motivation to keep you moving, guidance and advice, weekly group training runs or walks, and educational clinics on topics such as proper nutrition, choosing the right gear, and avoiding injury. Plus, you'll have the camaraderie of others just like you!
Evening Program
Kick Off Meeting: Thursday, September 7th from 6pm-7pm at Fleet Feet Sports
Workouts: 1 Day/Week: Thursdays at 6:00pm at Fleet Feet Sports starting September 14th
Race Date: Mission 5K on Saturday, November 4th

Cost: $75 (does not include race registration)
Participants receive: Detailed training schedule, informational clinics, technical t-shirt, weekly e-mails with tips & advice, AND constant support!
For additional information e-mail us at coach@fleetfeetwinston-salem.com
NEXT EVENT
2017 Fall No Boundaries PM Practice 10/19
Thursday, October 19th at 06:00 PM
Run/Walk 3 Miles


278 Harvey St.
Winston-Salem, NC 27103




EVENT SCHEDULE
---
DAY 1

2017 Fall No Boundaries PM Practice 9/14
Thursday, Sep 14th 6:00pm
Run/Walk 1.5 Miles
When
6:00pm
Where
278 Harvey St.
Winston-Salem, NC 27103
---
DAY 2

2017 Fall No Boundaries PM Practice 9/21
Thursday, Sep 21st 6:00pm
Run/Walk 1.5 Miles
When
6:00pm
Where
278 Harvey St.
Winston-Salem, NC 27103
---
DAY 3

2017 Fall No Boundaries PM Practice 9/28
Thursday, Sep 28th 6:00pm
Run/Walk 2 Miles
When
6:00pm
Where
278 Harvey St.
Winston-Salem, NC 27103
---
DAY 4

2017 Fall No Boundaries PM Practice 10/5
Thursday, Oct 5th 6:00pm
Run/Walk 2 Miles
When
6:00pm
Where
278 Harvey St.
Winston-Salem, NC 27103
---
DAY 5

2017 Fall No Boundaries PM Practice 10/12
Thursday, Oct 12th 6:00pm
Run/Walk 2.5 Miles
When
6:00pm
Where
278 Harvey St.
Winston-Salem, NC 27103
---
DAY 6

2017 Fall No Boundaries PM Practice 10/19
Thursday, Oct 19th 6:00pm
Run/Walk 3 Miles
When
6:00pm
Where
278 Harvey St.
Winston-Salem, NC 27103
---
DAY 7

2017 Fall No Boundaries PM Practice 10/26
Thursday, Oct 26th 6:00pm
Run/Walk 3 Miles
When
6:00pm
Where
278 Harvey St.
Winston-Salem, NC 27103
---
DAY 8

2017 Fall No Boundaries PM Practice 11/2
Thursday, Nov 2nd 6:00pm
Run/Walk 1.5 Miles
When
6:00pm
Where
278 Harvey St.
Winston-Salem, NC 27103